Lopp Holdings LLC Q2 report: -0.5% YTD return, average cost basis $657.5 / BTC. Up 32.5% since Q1 report.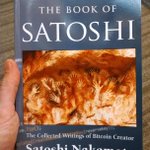 Bought my signed copy with bitcoin. Great job, Phil! bookofsatoshi.com pic.twitter.com/qptMgRhEhO
@JeffCostlow @PerianneDC I've met a few of the guys from the Wilmington Bitcoin meetup group - sounds like a good town for crypto.