mwebstir @lopp TSA at Denver airport randomly assigns people to the prescreened line, it's like they know the whole thing is a joke.
@nerdfox Will do; it was a pleasure to meet you! Best wishes to you with your new venture. :-)
pig_poetry @lopp I got a patdown yesterday for the one pocket that was empty. lol @ my wasted tax dollars
TSA's $1M ProVision machine can't tell difference between a weapon & cargo pocket; I get pat downs at every airport even if I don't opt out.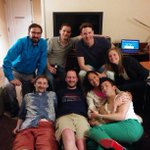 nerdfox Peacefully chillin' with the beautiful Mensans of #MensaAG @Mensa2014AG (no whisper police necessary) pic.twitter.com/TTyh0Iwwo1