@raknak Heh John would leave the room fairly regularly and come back with a lot more energy…
Going through old photos and remembering that in 2016 I spent an entire day in a hotel meeting room with John McAfe..twitter.com/i/web/status/1…jr
@0xArbiter It was pretty easy to get running locally.
@kouloumos Yes. Incredibly easy to use; I was up and running in under 5 minutes.
@trbouma @roasbeef Indeed. The results are pretty impressive; I'm going to work a bit on trying to quantify their accuracy.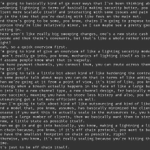 Stress testing some AI audio transcription tech.
IYKYK pic.twitter.com/S7N2EEi74G
@BrianLockhart I thought the tasteful nudes were only for superfollowers
Historical research suggests inflation increases violent crime. Higher cost of goods motivates consumers towards ch..twitter.com/i/web/status/1…r6
In order to achieve better scalability, privacy, and versatility, developers build desired functionality as new lay..twitter.com/i/web/status/1…gf
Miners don't waste energy securing Bitcoin.
The military industrial complex wastes energy securing the petrodollar.