@petertoddbtc Yep, then can we expect that any patents on mining processes will result in Core expending resources to counter them?
@petertoddbtc So your only complaint is the patent? From your original wording it sounds like any future optimizations are at risk…
@JeromeLegoupil If it's as simple as Core blocking all patents, they should say so. Sounds to me like plan is to block any optimizations.
@francoismasurel I don't think it's a simple as "we will ban all patented ideas" - it sounds like "we will ban all future optimizations."
If Bitcoin Core changes the protocol to kill a small mining optimization, it implies that miners should ask permission before innovating.
@adam3us You mean change the fee collection scheme so that a miner must reserve fees from a block that get paid to miners of future blocks?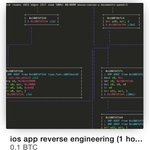 Exciting new listings on @openbazaar pic.twitter.com/uwoNiHwq6L