@AustenAllred I think the more important question is: will he be the LAST president?
If you find yourself performing low level bit manipulation outside of a classroom, you're doing something really awesome or really terrible.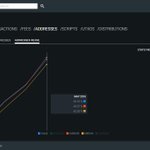 oxt_btc Sadly, fees aren't the only thing which has increased lately #AddressReuse #2016S1 #Bitcoin #Privacy pic.twitter.com/NLQbGAxmyK
@1cyrilblanc1 @BronxR Information wants to be free; patents slow down innovation and are becoming increasingly irrelevant in the info age.
@andzsy This is one scenario I fear; it could be a huge resource drain.