Annual reminder: verify & update your offline file backups. Don't have offline backups? It's a good time to get started: storage is cheap.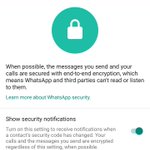 If you use @WhatsApp, make sure you have this enabled under Settings -> Account -> Security pic.twitter.com/7an0TR6Arb
Paranoia isn't a prerequisite for getting into cryptocurrency, but it's certainly a plus for staying in the game.