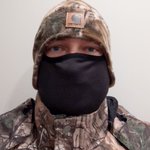 Finally found a mask that fits my beard; turns out it's a hat! pic.twitter.com/FZJPqSzlHK
@wesyang No, those were the hardest gains.
"This is the most important presidential election in the history of America!"

Nah, you've just been brainwashed in..twitter.com/i/web/status/1…su
In order to fully verify the Bitcoin blockchain to height 655000 you'll need to perform over 1.7 billion elliptic c..twitter.com/i/web/status/1…1Y
Went to a gym recently and hopped on one of those "smart" stationary bikes. It didn't work because the monthly subs..twitter.com/i/web/status/1…hG
@paulbradleycarr What if I told you that people /always/ die as a result of who gets elected President.
"DeFi Yield Farming" is a game for those who understand complex smart contracts to extract value from those who do not.