If the game is rigged, find another game to play.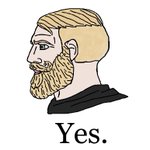 @theinstagibbs I think you mean pic.twitter.com/kCCJTvYqpT
Bitcoin is a cult of individuality.
Anyone who poses a direct threat to the interests of a corrupt and murderous empire is alright in my book. https://t.co/xOVpaMqY1V
Visionaries don't care about complying with standards. They develop the new standards.
Bitcoin is a bet that money as an open source globally collaborative project will outperform whatever bureaucrats c… https://t.co/NTk610xeJI