There is no need to feel guilty about failing to convince those you care about to flee from fiat as it falls.
❌🧏🔑❌🧏🪙
"I am frankly scared and upset that I can't access my money any more, and can't believe that of all the pitf..twitter.com/i/web/status/1…VX
@Big_Olle @staywokeebruv It is meant to be used in conjunction with a hardware device. We support Trezor, Ledger, and Coldcard.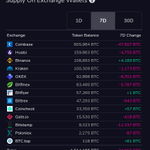 The exodus of bitcoin from exchanges is in full force according to viewbase.com/coin/bitcoin pic.twitter.com/a8G8oVedzz
Q: "Is now a good time to buy bitcoin?"
A: As always, if you have to ask, the answer is "no."