Apparently @SkyBridge held an investor call about their bitcoin fund yesterday and 6,000+ people tried to join, overwhelming their system…
@QhsNYJ Engrave it more to the point that it's illegible.
@QhsNYJ I wouldn't. I'd only carry encrypted data across borders.
If you think you might buy bitcoin for the first time this year, you should really start setting up exchange accoun..twitter.com/i/web/status/1…43
There are still 6 unredeemed 1,000 BTC Casacius coins/bars. Imagine keeping $40,000,000+ on a single physical point..twitter.com/i/web/status/1…L7
@WhalePanda I think we all know who the friend is.
It's a bad idea to buy bitcoin without knowing what you're buying.

It's an even worse idea to sell bitcoin without knowing what you bought.
@FullyNoded Signal. If folks fill my feed with low value price updates then I'll have no choice but to mute or unfollow them.
If you're cheering every $1,000 ATH increment then you're making noise for every 2% bump. For sanity's sake I propo..twitter.com/i/web/status/1…SF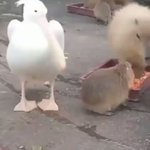 Rare footage of an institution trying to hoover up all the bitcoin. pic.twitter.com/GDUUuAqRav